---
Page content
BUS2BUS 2024


Focus on the future
The Bus –

of the most attractive means of transport
BUS2BUS as an industry event and business platform for the German and European bus and supplier industry is focused on the future of sustainable and innovative mobility. With its combination of Trade Show, an informative program consisting of the Future Forum and the bdo Congress, as well as the BUS2Specials with workshops, startup pitches and exhibitor presentations, BUS2BUS covers the entire spectrum of future technologies and shows the latest trends and innovations in the bus industry.
BUS2BUS

is shifting into high gear
The bus plays a key role when it comes to sustainable mobility in urban and rural areas. Flexibility, capacity and digital concepts make this one of the most attractive modes of transport.
The world was turned upside down in the first half of 2020. During these times of reduced mobility offers, many people became more aware of the importance of a comprehensive, flexible and sustainable transit system. The return to normal brings a wealth of new possibilities and opportunities.
As a holistic business platform, BUS2BUS brings all market participants together. All future issues relating to macro and micromobility will be addressed: from the increasing digitalization and interlinking of public transport, to completely new alternatives in long-distance travel.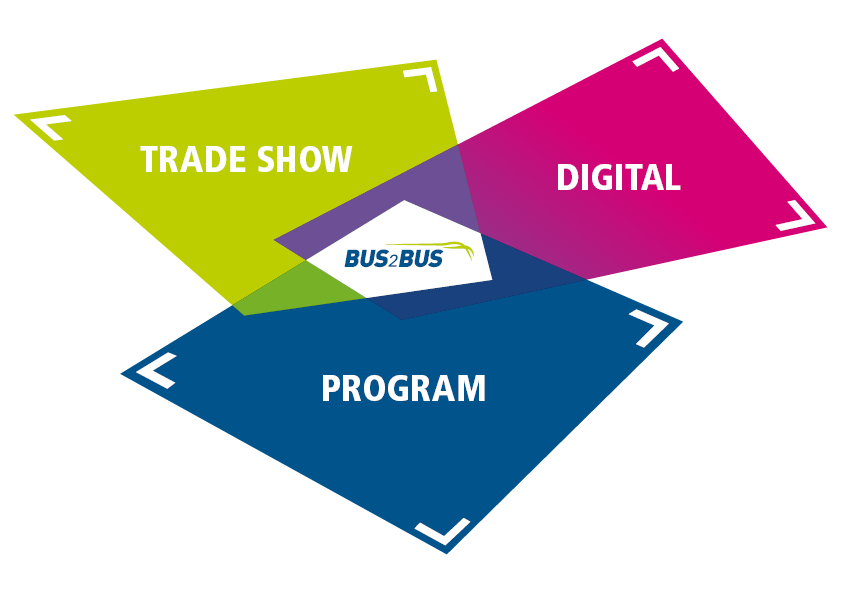 Fresh Travel:

How do we envision (bus) travel tomorrow?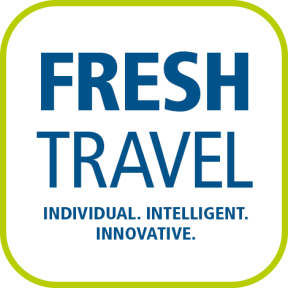 The desire for individualization and personal expression has increased dramatically in today's age of digitalisation. This trend influences all aspects of life – including mobility. Added to this is a desire for eco-sustainable transport systems, something that already has an impact on modern urban planning.
Vehicle design and equipment levels play a key role for BUS2BUS. This is a field in which much has changed over recent years. Coaches have long served as design and styling objects. They are also highly customisable in terms of size and features. Innovative materials and production techniques open the door to new options and offer scope for new design approaches.
The aim for BUS2BUS is to spark the discussion on how design and aesthetics can contribute to making buses more attractive and more perceptible in public life.
As a Trade Show for bus industry innovations, BUS2BUS consolidates this approach in the new BUS2BUS Fresh Travel segment
In this context, the following questions arise:
What contribution can buses – of all sizes – make to meet modern demand?
What level of customization can manufacturers and suppliers offer?
Design and public transport are mutually exclusive. What new design options/spaces arise with new drive systems?
What demands do city dwellers have on public transport buses? What are the needs in rural areas?
What can bus tour operators offer to reach new target groups? What makes modern travel special?
Visions of the future: What will express buses (interior and exterior) look like in long-distance transport services when express routes are extended on motorways?
What tangible added value can technologies and digital applications offer?
The following key factors will be discussed in concrete terms at the Future Forum and presented at the Trade Show:
Design & Aesthetics
Material types and options, technologies
Future equipment options
Smart travel
Innovative food concepts for travel coaches/long-distance buses
Digital booking platforms, travel apps – customizable digital travel guides
Smart safety and assistance systems
BUS2BUS connects

The Target groups.
Exhibitors from the following sectors:
Bus manufacturing
Bus coachwork
Components and accessories
Equipment and interiors
Design
Safety technologies
IT and media
Display technologies
Meet visitors from the following sectors:
Public transport
Long-distance transport
Mobility providers
Tour operators
Charter companies
Fleet managers
Designers and urban planners
Service providers, Policymakers & Media