---
Page content
What is BUS2BUS "Fresh Travel?"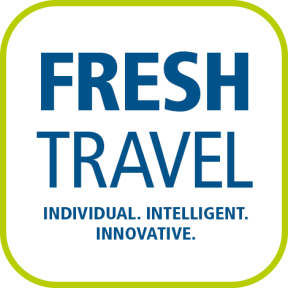 The future of bus mobility is being shaped by sustainable drive systems, digitalization, innovative design options and above all, by rapidly changing customer needs. Pioneering travel concepts focus on the needs of passengers as well as on environmental factors. This applies to the wide-ranging uses of the bus as a miracle of versatility – from public transport, to long-distance travel and bus tourism.
Mobility engineers are exploring futuristic bus designs featuring transparent surfaces and energy-saving lighting to create a modern, appealing look. Together with sustainable drive systems, the new designs play a key role in reshaping the public image of buses. As a trade show for bus industry innovations, BUS2BUS consolidates the "Fresh Travel" concept and demonstrates how this approach supports the industry's changing profile.
Showcase your innovative concepts and solutions and apply now for the BUS2BUS Fresh Travel Award!
The competition is open to everyone – especially students! – who submits ideas or concepts related to the following themes:
Vehicle and interior design/engineering
New materials and applications
Innovative travel concepts and travel packages
Sustainable travel
Special topic: Travel Hub of the Future
Innovative food concepts for coaches/long-distance buses
Digital solutions for on board entertainment/infotainment, booking platforms, travel apps
Personalized digital travel guides
Smart safety and assistance systems
Other fresh travel ideas
Special topic: Travel Hub of the Future
The enjoyment begins at the start of the journey and rest stops are a key aspect of the overall experience. As one of the most important spaces for the bus industry, the travel hub of the future fits seamlessly into modern coach travel. Our focus is on the following themes:
Sustainability – use of renewable energies, installation of solar or wind power systems, use of rainwater, integration of charging stations for electric vehicles
Eco-friendly architecture – designs based on ecological aspects including energy-efficient buildings or intelligent lighting technologies
Diverse food service options – full range of dining choices to suit all nutritional preferences
Digitalization and connectivity – innovative digital infrastructure, seamless connectivity, high-speed Wi-Fi, digital information systems, reservations for charging/parking/overnight slots, mobile apps for food ordering, etc.
Multifunctional usage ¬– facilities that go beyond food services to include shops, cultural or training centers, exhibits, event spaces, etc.
A jury of experts will select the best ideas for the BUS2BUS Fresh Travel Awards that will be presented live at BUS2BUS 2024. Use the form below to apply now!
In the following steps you apply for the BUS2BUS Fresh Travel Award 2024. After completion you will receive an automatic confirmation of receipt. Please note that this is not yet a binding confirmation of participation.
While filling out the form please note the timeout after 30 minutes.
In the last step of the application process the document will be sent to us online. After submitting your application, you will receive an e-mail as confirmation, which once again contains all your indications.
The official application deadline for the BU2BUS Fresh Travel Award 2024 is February 29, 2024, after which all applicants will be informed.