---
Seiteninhalt
May 02, 2022
BUS2BUS 2022: Back to the future
BUS2BUS, which took place for the third time as an in-person event from 27 to 28 April on the Berlin Exhibition Grounds, came to a successful conclusion. After being postponed due to the pandemic, it was "back to business" again. More than 2,000 trade visitors from 25 countries came to find out about the latest bus industry trends, whereby the focus was on sustainability driven by technological innovation.

"Over the two days of the event, BUS2BUS reflected the industry's high degree of innovative potential and provided an ideal platform for discussing new drive systems, infrastructures and new vehicle concepts. The atmosphere was overwhelming and once again emphasised how much the industry has missed face-to-face encounters - because bus business is people business ", said Kerstin Kube-Erkens, Senior Product Manager of BUS2BUS.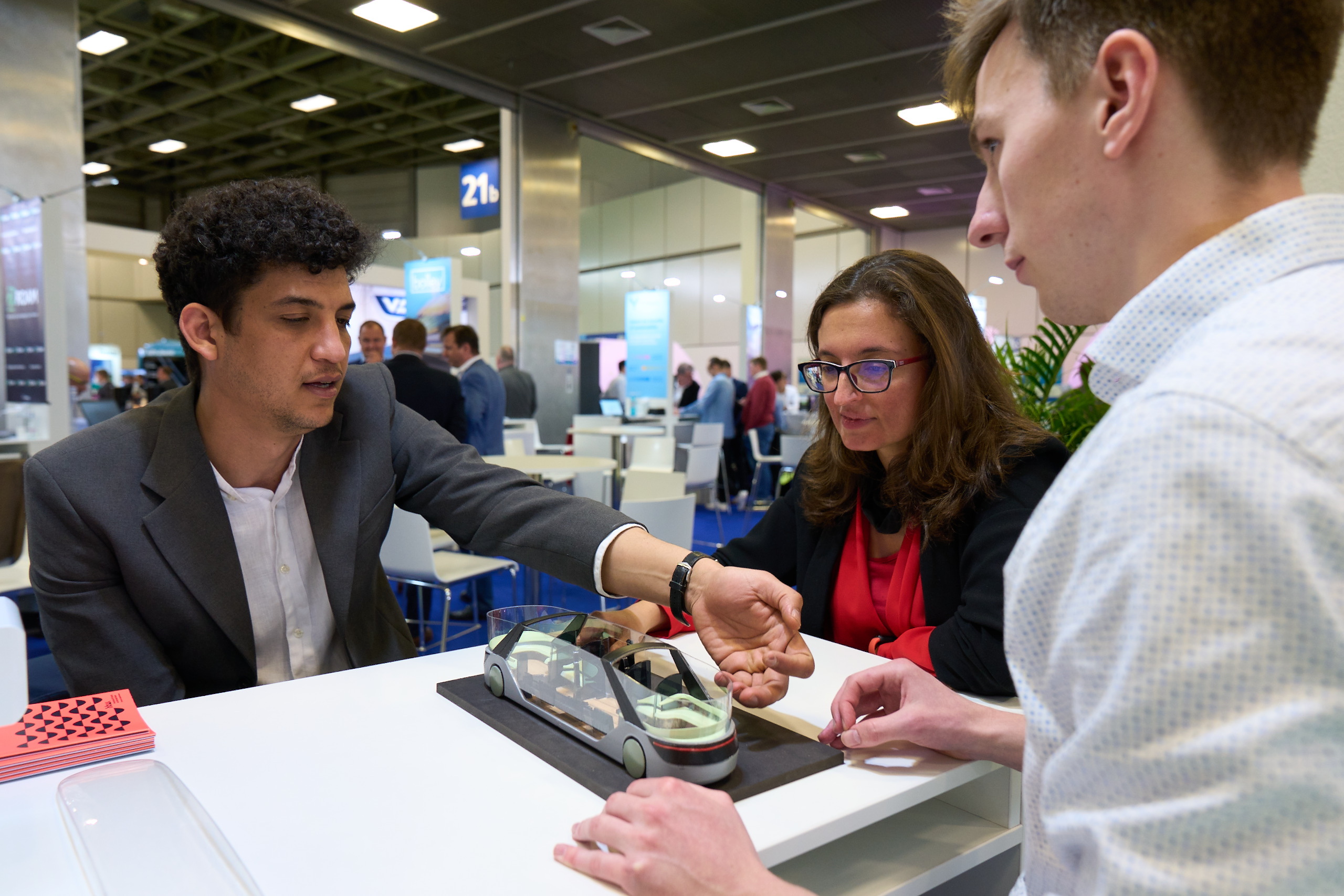 Around 100 exhibitors from 16 countries presented their products, services and technical solutions at the meeting place of Europe's bus industry and its suppliers. The industry's key players were represented with more vehicles on larger stands. Figures representing politics, business and science visited the event, underlining how important buses are for new forms of mobility. The combination of a Trade Show and an informative program of stage events, comprising the Future Forum, bdo Congress, as well as BUS2Specials, was very well received by trade visitors and exhibitors alike, which was reflected in the initial positive reactions obtained in a survey.

Exhibitors and trade visitors satisfied

This year, international attendance increased, reaching almost 25 per cent. The concept, key topics and the overall impression given by BUS2BUS 2022 were well received: around 90 per cent of trade visitors rated these aspects of BUS2BUS as positive. More than four out of five trade visitors thought that this year's value for money was better than in 2019. Overall satisfaction ratings also mirrored the positive experience and continued to be very high: altogether, nine out of ten respondents were (very) satisfied with BUS2BUS 2022. Almost as many interviewees said they would be back for the next BUS2BUS in 2024.

Nine out of ten exhibitors considered BUS2BUS an ideal platform for presenting new products and innovations and almost as many said it was an innovation platform for the German market. Close to 50 per cent of exhibitors presented new products and innovations, and more than 85 per cent were satisfied with the high quality of trade visitors.

All these experiences resulted in a positive impression among 95 per cent of exhibitors, with 87 per cent saying they would be back for the next event.

Save the date
The next BUS2BUS will take place from 24 to 25 April 2024.

Comments on BUS2BUS 2022

Dr. Volker Wissing, German Federal Minister for Digital and Transport
"Digitalisation is crucial to transitioning to new forms of mobility. Among other things it facilitates on-demand services which augment and make public transport more efficient and attractive, so that ideally people will no longer have to wait for a normal bus service to arrive or walk to the bus stop in the pouring rain. At the touch of an app you will be picked up by transport which ideally will be electrically powered and driverless. That is my idea of mobility that is tailored, flexible, attractive and efficient."

Frank Krämer, Head of Bus Sales, MAN Truck & Bus Germany
"Once again, BUS2BUS was a big success with a fantastic opening event. There were many political figures, a lot of visitors with expert knowledge, no occasional customers as at other events, instead very interested competent people who knew the industry well and were familiar with it in depth. In that sense it is a genuine specialist trade show that in my opinion has really established itself. We are looking forward to the next event."

Edvardas Radzevicius, CEO, ALTAS Auto
"This was the first time we were at BUS2BUS and took part in a trade show after quite a long break. The event showed that the market is very busy. There was keen interest in our products. We had a lot of interested visitors on our stand. Our company is currently expanding rapidly on the German market. BUS2BUS was the right platform for us to make contact with transport companies and it went very well for us."

Martin Ecknig, CEO, Messe Berlin
"At BUS2BUS we have an opportunity to not only discuss innovations, but also to witness, experience and be part of many of them, and in particular to recognise their potential for mobility at the next level."

Karl Hülsmann, President of the German Bus and Coach Operators Association
"We are currently in the midst of an unprecedented transition. Not only are we witnessing a changeover to alternative drive systems, many other things will also automatically change that will affect us all. We can get a glimpse of the transition to new drive systems and transport forms here and see positive approaches. But we also need decisions from creative policymakers who can show us their vision of future mobility, and who above all can put the right overall framework in place."

Philipp Glonner, CEO, ARTHUR Holding
"We were overwhelmed. It probably had a lot to do with the fact that nobody knew us and this was our first appearance at BUS2BUS. The stand was very busy, along with suppliers, potential customers and competitors too of course. I must say the general feedback was very positive. It was fun, and Messe Berlin gave us great support."

Peter Freedman, Chief Marketing & Sustainability Officer, SWITCH Mobility
"We greatly enjoyed the event. It was the first time we were able to present our products in Germany. We were very impressed by the reactions as well as the number of people on our stand. We followed some very interesting discussions and had debates about the market."

Dr. Meike Niedbal, Permanent Secretary for Urban Mobility at the Berlin Senate Department for the Environment, Urban Mobility, Consumer Protection and Climate Action
"During the coronavirus crisis we saw that public transport was and is crucial to transforming mobility in Berlin. (…) What we need is an initiative highlighting excellence for public transport. I am absolutely convinced that bus transport combines many advantages. It is easily scalable, provides access even in the remotest areas and enables long-distance travel too. Achieving zero-emissions bus fleets is an important contribution to protecting the climate and helps to improve the quality of life in cities."

Jana Schimke, Member of German Parliament, Chairwoman of the Tourism Commission of the German Bundestag
"BUS2BUS gives us members of parliament and politicians the opportunity to connect with the industry and get a sense again of what is going on. What is the general mood? Where do the problems lie? What new developments are there currently? We were able to get a first-hand impression in that respect."

Tanya Altmann, Managing Director, SKODA TRANSPORTATION Germany
"I considered the Trade Show a success in many ways. We were able to present our new E'CITY product to both German and international audiences. That delighted me, because operators had arrived from various countries who had all been waiting for this Trade Show. People were much more relaxed and open than before the pandemic. Nothing can compare with a face-to-face meeting. I found organising supporting programs and inviting policymakers to be very important. Even if the market holds many solutions, without investment and development programs there can be no transition to new forms of mobility."

Nuno Lago de Carvalho, CCO, Caetano Bus
"BUS2BUS was strategically important for us, as we are expanding our market coverage in Germany and the Berlin region. That is why it is important for us to be here at BUS2BUS."

Boris Höltermann, Managing Director, VDL Bus & Coach
"The best thing about BUS2BUS was that we were able to see so many people again. It was a great opportunity to exchange views. It was a bit of a shame we were unable to display our new vehicle, as we still have to wait for the official launch. However, we were able to talk a lot about it and that met with keen interest."

Wolfgang Hackauf, Sales Director Germany, Ebusco
"We were pleasantly surprised. The last time we were here was three years ago. BUS2BUS has developed noticeably in terms of visitor numbers. That may be due to the current situation, in which everyone wants to get out and go to events again. Overall, we were very satisfied with our attendance and our stand location on the outdoor display area."

Andreas Hager, CEO, Pepper Motion
"We have always felt at ease at BUS2BUS, both before the pandemic and now. One can sense that everyone is really keen on trade shows again. While virtual and hybrid formats were able to fill in the gaps, they could not replace face-to-face meetings, informal conversations, including at meals or in the evening at the bar. That can only happen at an event like this. We were very busy as well. It all started on day one on our stand and time really flew by far too quickly."

Stephan Stieglauer, Co-CEO Group, Kiel Interior Solutions
"It was important for us to be here, because it was one of the first trade shows after the coronavirus episode. We were strongly represented here, which proved to be the right decision. One can sense that people want to talk to each other again. The meetings were very open and friendly and there were lots of visitors. The panels and lectures attracted keen interest and were entertaining and informative. We are very satisfied."

Daniel Krauss, Founder and CIO, Flixbus
"It is always nice to be at BUS2BUS. You imagine it to be about buses, when really it is about the future. We brought a biogas-powered bus here. There are electric buses everywhere. I think the exchanges here showed a lot of what is to come."

Jochen Grau, Marketing Communications, IVECO BUS
"We are very satisfied. At our press conference already there were many more journalists than expected. After that the stand was very busy, and we had lots of meetings planned for day two. We met lots of regulars as well as new people at the Future Night. The industry is changing of course, and so there are new players here too with interesting products."

Tomi Ristimäki, CEO, Kempower
"BUS2BUS is an important Trade Show for us because it focuses on public transport. Our stand was particularly busy on day one. We had very good meetings at the panels."

Dr. Jens-Holger Heinemann, Head of Regional Sales, Mercedes-Benz and Setra Buses, Germany, Daimler Buses, EvoBus
"Our close links with the bdo are a great advantage, as many of our customers are involved there and automatically attend. Many other interesting customers also took part. After two or three more events the Trade Show will continue to evolve positively."

Daniel Sattel, COO and co-founder of AWAKE Mobility
"We established many good contacts at the Trade Show and met a lot of interesting people. The Startup Area was busy throughout. We were able to present our company on stage and met lots of new people.

Print-quality photos of BUS2BUS 2022 can be downloaded here.

You can find videos of BUS2BUS here.
About BUS2BUS
BUS2BUS, an innovative business platform for the bus and supplier industry in Germany that focuses exclusively on the bus industry, has been held since 2017. BUS2BUS 2019 was attended by more than 1,700 trade visitors from 34 countries and 103 exhibiting companies from 13 countries. Preparations for BUS2BUS 2022 indicate that the Trade Show will be even bigger, with more buses and test drive opportunities than ever before. With the combination of a Trade Show, an informative stage program of Future Forum and bdo Congress tracks, as well as workshops and presentations (BUS2Specials), it will cover the entire range of future technologies and showcase the latest trends and innovations in the bus industry. The next BUS2BUS will take place from 27 to 28 April 2022 in Berlin.
About Messe Berlin
Berlin has been a trade fair destination for 200 years, and has been one of the most important such hubs for many decades. Messe Berlin – the state's own trade fair company – conceives, markets and organizes hundreds of live events every year. It strives to be an outstanding host for visitors at all events, generate optimal business stimuli, and provide fair conditions for everyone. This concept is reflected in the company slogan: Messe Berlin – Hosting the World.